Authentic Native American Indian Jewelry & Beadwork for Sale
20% OFF HOLIDAY SALE*
The discount will show up in your shopping cart when you check out
Don't want to order on-line? Use our toll-free order number (800) 952-5214.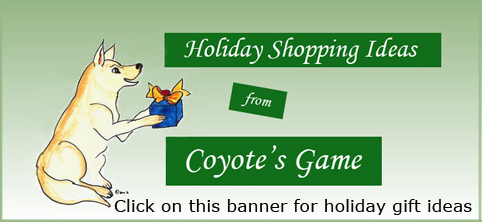 Coyote's Game is an on-line businesss specializing in Native American beadwork, but don't forget to browse through our other Native American crafts such as traditional Ojibwe dream catchers, silver jewelry and pottery. We also offer a calendar of Native American events in New Mexico, a calendar of New Mexico rodeos, plus information on American Indian crafts. And customer service with a smile!
The American Indian artists whose work is shown on Coyote's Game come from tribes across the country. Everything you see is proudly hand made by an individual or family. When you buy from Coyote's Game your purchase helps to support a Native American family and to carry on a tradition of fine craftsmanship.
Our selection of Native American beadwork includes beaded jewelry, hat bands, belts, pouches and dream catchers. We have bead work bracelets and earrings of all kinds, necklaces, barrettes, hair ornaments, key holders, lanyards and more. Coyote's Game is proud to offer the work of nationally recognized Kewa-Creek-Seminole artist LeJeune Chavez.
Find Pueblo and Navajo pottery at Coyote's Game. We carry pottery made and fired in the traditional way using hand-picked and processed clay, as well as hand decorated pottery made from commercial clays. Don't miss our story teller dolls made by Jemez Pueblo potter Carol Lucero-Gachupin and three dimensional pottery by Pita Lucero of Jemez Pueblo.
WE SHIP INTERNATIONALLY
2004 - U.S. Department of Commerce, U.S. Commercial Service Export Achievement Award
WE ACCEPT PERSONAL CHECKS, MONEY ORDERS
INTERNATIONAL MONEY ORDERS
VISA, MASTER CARD, DISCOVER, AMERICAN EXPRESS and
PAYPAL


WE GUARANTEE OUR PRODUCTS
We keep our prices reasonable by buying directly from the artist whenever possible. Our reputation is based on experience and customer satisfaction, so that you can buy with confidence.
*20% off all regular merchandise. Sale does not include Bargain Basement merchandise.
Questions? Contact us at:
See our policies at left for payment, shipping, refunds and customer privacy.
© 1999-2015 Coyote's Game. Reproduction without permission is prohibited.